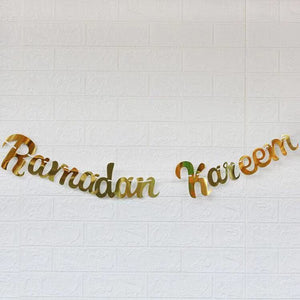 Ramadan Kareem Banner - Ramadan Banner
The Ramadan Kareem banner is the perfect way to say "Ramadan Mubarak" this blessed month. Each card holds a subtle message of wishing festive greetings, while the vibrant colors stand out on any wall. Add these greeting cards to your home decor, office decor, or other occasions during Ramadan. Use these as party decorations, which will bring you a nice and joyful mood.
Elegant Ramadan Mubarak decoration banners for your home and office decor to remind you about the beauty of Ramadan. The long linen fabric will be a perfect addition to your decor, adding a rich feel of quality and royalty to all of your holiday decorations. Add these items to any room in your home or office to make it feel more festive for the upcoming Eid celebration!
This minimalistic banner can add beauty to any room decor.
Material: Paper